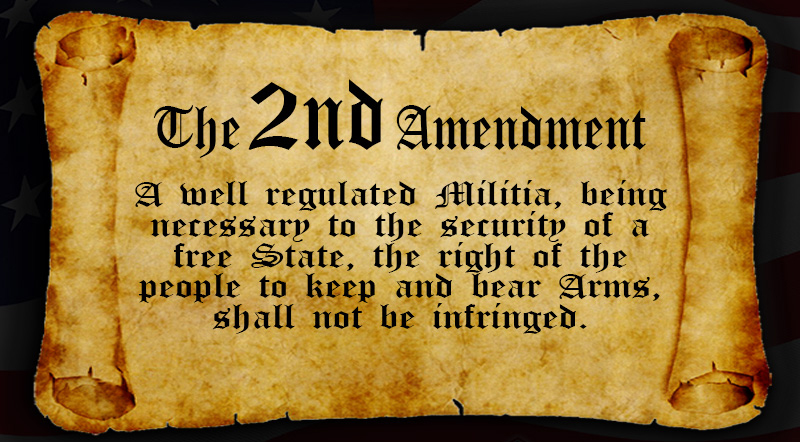 "A well regulated Militia, being necessary to the security of a free State, the right of the people to keep and bear Arms, shall not be infringed." So reads the Second Amendment of the Bill of Rights, one complete sentence expressing a complete thought. Despite grammar and punctuation which clearly creates one complete sentence, both judges and social critics have illogically treated the the opening phrase about "Militia" as a separate thought. Thus the phrase about "the right to bear arms" has illogically been culled from the sentence as a whole, radically changing its meaning, with dire results.
Historically, the amendment in totality makes perfect sense. In 1776 America declared its independence from England and embarked on a socio-political experiment of democracy (limited as it was to white men owning property). The 1791 Second Amendment to the Constitution makes clear that gun ownership at the time was a product social organization, can connects gun ownership to the need for a State to arm a "well regulated Militia." Lacking a standing federal army, defense department, stockpiles of munitions and other federal activities we take for granted today, the only way a state or the United States could provide a militia with weapons to resist foreign aggression in 1791 was for those weapons to be in the hands of volunteer citizens. Incidentally, the guns of 1791 were breach-loaded arms capable of firing one bullet per load of gunpowder, at a rate of two or perhaps three shots per minute.
The Amendment makes the linkage absolutely clear: the "bearing" of arms is for the purpose of provisioning a "well regulated Militia." However, in a society obsessed with "individual rights" the Second Amendment has become the justification for individual ownership of the tools of modern warfare, hi-tech weapons specifically engineered to quickly kill as many people as possible. Modern automatic rifles discharge six bullets a second from large clips dispensing lethal ammunition.
People like danger and dangerous things, and guns qualify. To hold a loaded weapon in one's hands is to embrace danger, and to have control over it. A finger on the trigger radiates that danger to everyone around, and that knowledge produces feelings of power. For those who are unstable or pathological, that power can become irresistible, with disastrous and tragic results.
Global gun-related homicide statistics (2011) tell the story: Japan: 11, Great Britain: 41, Switzerland: 57, Canada: 173, Israel: 6, Sweden: 37, France: 35, Germany: 158, United States: 9,146. Despite the unrelenting and some might say escalating violence perpetrated by high-caliber automatic weapons, the regulation of such firearms in the U.S. is less than it was ten years ago.
Given the estimated at 270 million guns now in circulation in America, it is inevitable that some will fall into the hands of people who should never hold a gun. But even if new regulations are established (though in many states gun ownership is being further deregulated) the firearm genie cannot be put back into the bottle. We have let loose a scourge upon our land, and as if everyday life were not tragic enough, we are adding gun violence to our misery.
There is but one way to escape the tyranny of this man-made nightmare and that is to reaffirm and express our basic goodness, interdependence, compassion and connection to each other. Tighter gun regulation is surely needed, but a lasting solution will only be found in the human heart.