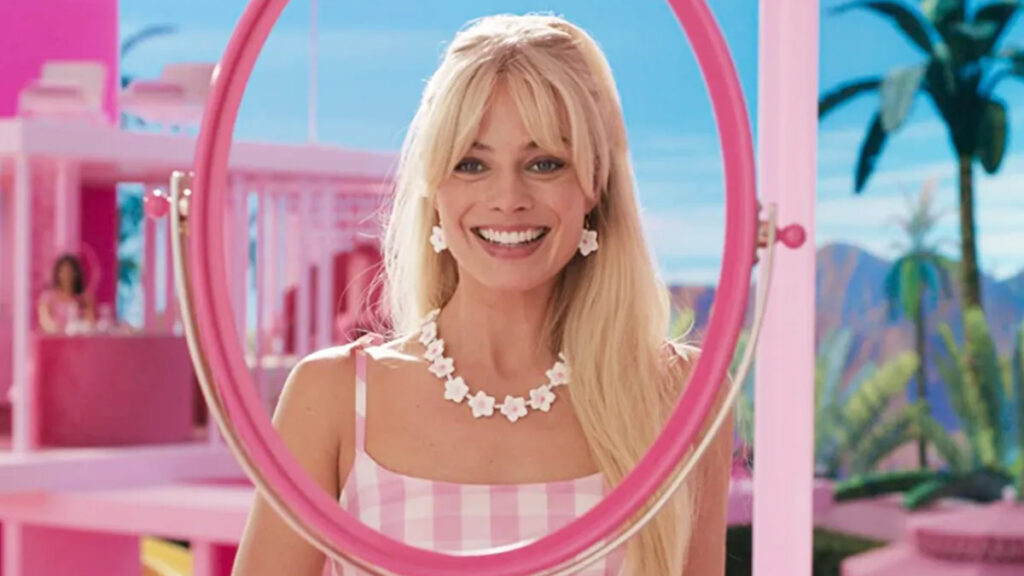 While headed to our town's historic one-screen movie house the Sebastiani Theatre to see Barbie, in walking meditation I purposefully inhabited the mystery of multiple selves: my biological self whose feet touch the ground, my imaginary self as an idea, and my quantum self as a waveform traveling unobstructedly through the waveforms of the world. Each self felt different, but also the same, a Buddhist dharma teaching about the mutual identities of phenomena. Imagine my surprise to find out the movie is about Stereotypical Barbie exploring the same mystery!
Stereotypical Barbie lives in Barbieland, a god-like Barbie Nirvana, where every sunny and beautiful pink morning she awakens to meet her multiple selves and multiple Kens with a cheery "Hi Barbie, Hi Ken!" Who knew there are so many Barbies! All the Barbies are different, but all are the same, and so it is for all the Kens; life in Barbieland seems perfect, unburdened by conflict, sexuality, politics or drama. Perfect, that is, until Barbie starts thinking about death; at this, she awakens from the passive perfection of frozen history.
Barbie's high heels descend, her feet touch the earth, and she feels suffering; confused and worried, she visits Weird Barbie. Weird Barbie lives on a hill, outwardly looks and acts crazy, but actually is a wise teacher; she explains to Barbie that Barbie's destiny is attached to the child who once played with her and she sends Barbie on a quest to the human world to heal herself. Afraid but desperate, Stereotypical Barbie hops into her perfectly pink, plastic 1966 Corvette convertible and unexpectedly joined by Ken, begins traveling on her path to enlightenment: Woke Barbie.
For Barbie, life has been an eternity of now, each day exactly the same. Her thought of death triggers an episode of hypersanity – an apocalypse, the root meaning of which is "parting of the veil," or discovering truth. Truth is what we Buddhists call Dharma. Embarking on a path of self-awareness, Barbie ultimately discovers that reality is actually open-ended and unconfined. In this way, Barbie begins becoming fully human.
In her trip to the human realm, Barbie enters Samsara, what appears to be a world turned upside down and run by men. She finds who she thinks is the child she's connected to but is rejected by her rather than embraced. Forlorn, she makes her way to the headquarters of Mattel, the toy company that created Barbie, and is welcomed by a terrified board of directors, all men, Stereotypical Men, all dressed in suits and ties, intent on putting Stereotypical Barbie back into her stereotypical box. Ken, meanwhile, finds the human realm to be his Nirvana, a place where it's all about narcissistic male happiness, and he decides to return to Barbieland with his transformational discovery.
Barbie and her human owners, mother and daughter, return to Barbieland, only to encounter that Ken has transformed it to Kenland. For Barbie, Nirvana has become Samsara; she and weird Barbie hatch a plan to prevent Ken from permanently taking over. Ken, it turns out, finds that he too is suffering; in pursuing the Nirvana of feeling loved, he has created a fragile and false reality of self-love. Stereotypical Barbie, now anything but, successfully dissolves Ken's delusions, much to Ken's relief.
Ultimately, Stereotypical Barbie reenters the human realm, transformed into Dharma Barbie. She has awakened to Samsara as Nirvana, prepared to be in the world as it is, suffering and all.